The details of our 52nd season are here! Take a look at what's in store across Greater Cincinnati.
Add your voice to ours
If you share our passion for bringing to life the masterpieces of the choral-orchestra literature, why not join Musica Sacra? Here's the latest on auditions.
Candidates should bring a piece to sing (accompanist will be provided), and there also will be a range check. Candidates may also be asked to sightread.
When (NEW DATE)
Monday, August 28, 2017
6:15 – 7:15 PM
(Prior to our first rehearsal.)
Where
Episcopal Church of the Redeemer
2944 Erie Ave., Hyde Park
MORE INFORMATION:
For questions about auditions, or to reserve a time slot, please contact Chorus Manager, Charlotte Schaengold at 513-240-6951 or .
2017-2018 Concert Dates
• Oct. 22, 2017
• Dec. 3, 2017
• April 15, 2018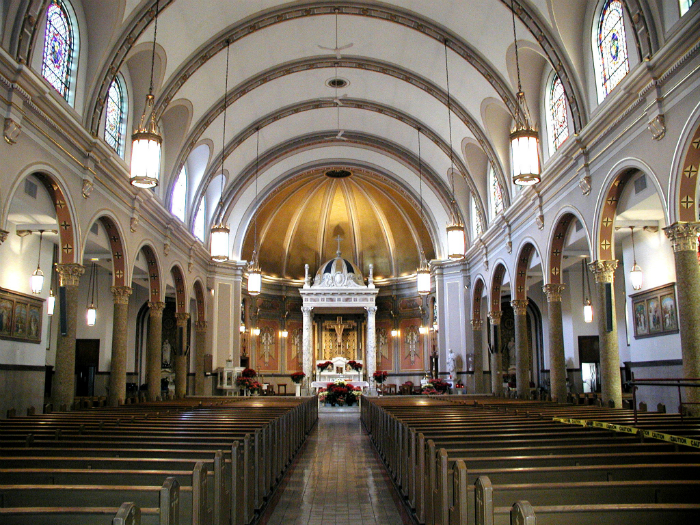 Join Musica Sacra at 3 p.m. March 26 as we welcome spring and two guest conductors at St. Boniface Catholic Church in Cincinnati's Northside neighborhood. On the podium for works from Germany and England will be Carlton Monroe and Avishai Shalom.
Monroe, artistic director of the Cincinnati Bach Ensemble and director of music at St. Thomas Episcopal Church, opens the program with Johann Sebastian Bach's cantata Dazu ist erschienen der Sohn Gottes (For this the Son of God appeared), BWV 40. Monroe is a specialist in the Bach cantatas and leads monthly programs featuring them at St. Thomas.
He concludes the program with Franz Joseph Haydn's Missa Sancti Nicolai (St. Nicholas Mass), written in 1722 (and revised in 1802) to celebrate the name day of Haydn's patron, Prince Nikolaus Esterhazy.
In between, Avishai Shalom takes to the podium to lead the Five Mystical Songs of Ralph Vaughan Williams, written early in the 20th century. For his text, Vaughan Williams set four poems — one in two parts — of George Herbert, a seventeenth-century Welsh-born English poet and Anglican priest. Shalom is a graduate student in orchestral conducting at the College-Conservatory of Music.
St. Boniface is at 1750 Chase Ave.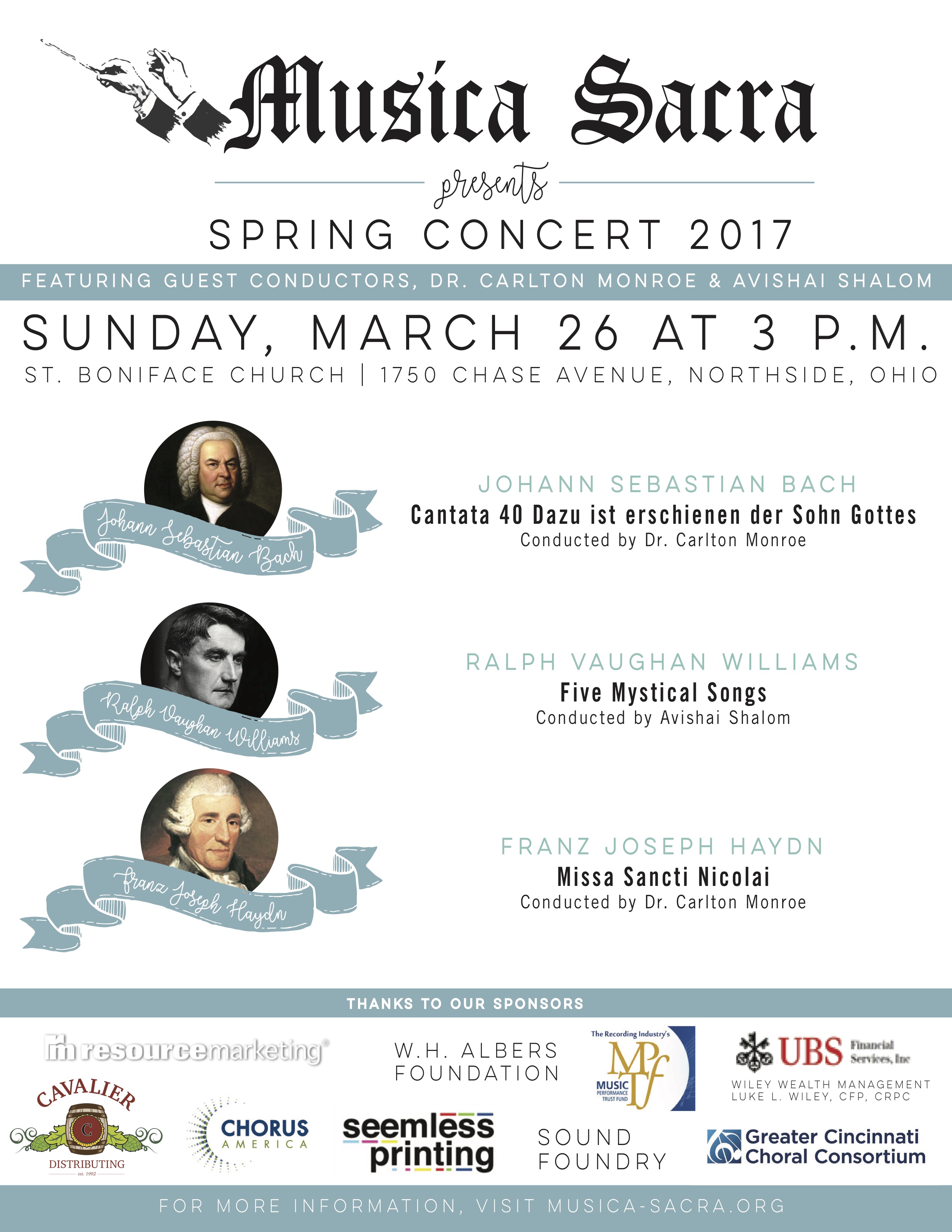 To download the flyer as a PDF, please click here.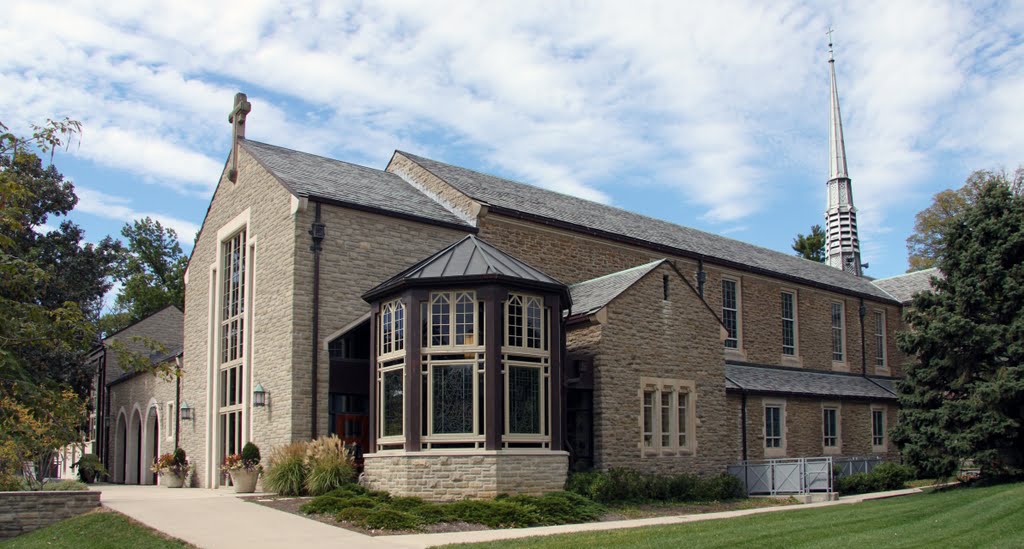 Join Musica Sacra at 2 p.m. Dec. 4 for our annual holiday program. The program, at the Episcopal Church of the Redeemer in Cincinnati's Hyde Park neighborhood, is to be conducted by L. Brett Scott, the choir's music director.
Listeners can expect an album of Christmas-themed music from across Western Europe, including Dietrich Buxtehude (northern Germany), Marc-Antoine Charpentier (France), Francesco Durante (southern Italy), and Wolfgang Mozart (Austria). Join us as we start the holiday season with an afternoon of beautiful sacred music in a beautiful sacred space.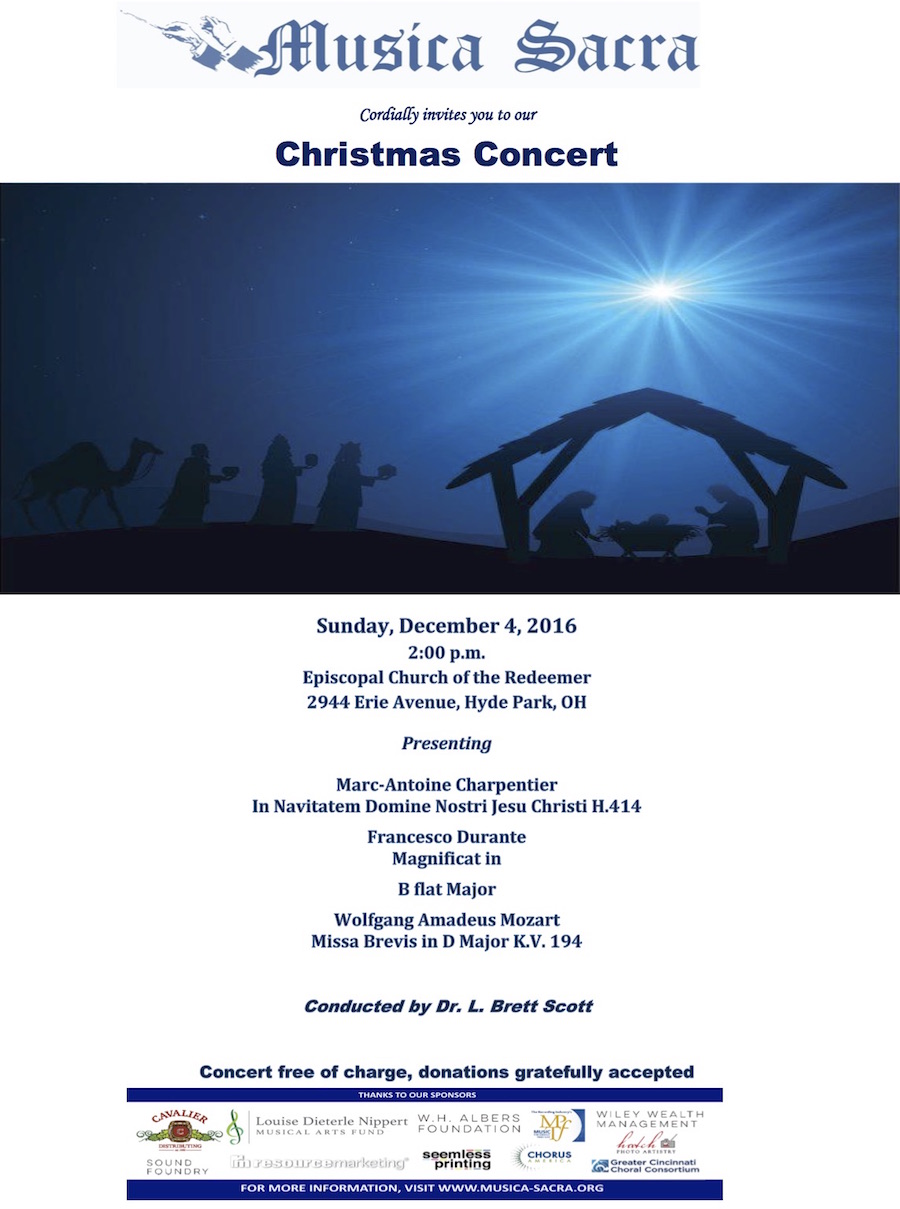 To download the flyer as a PDF, please click here.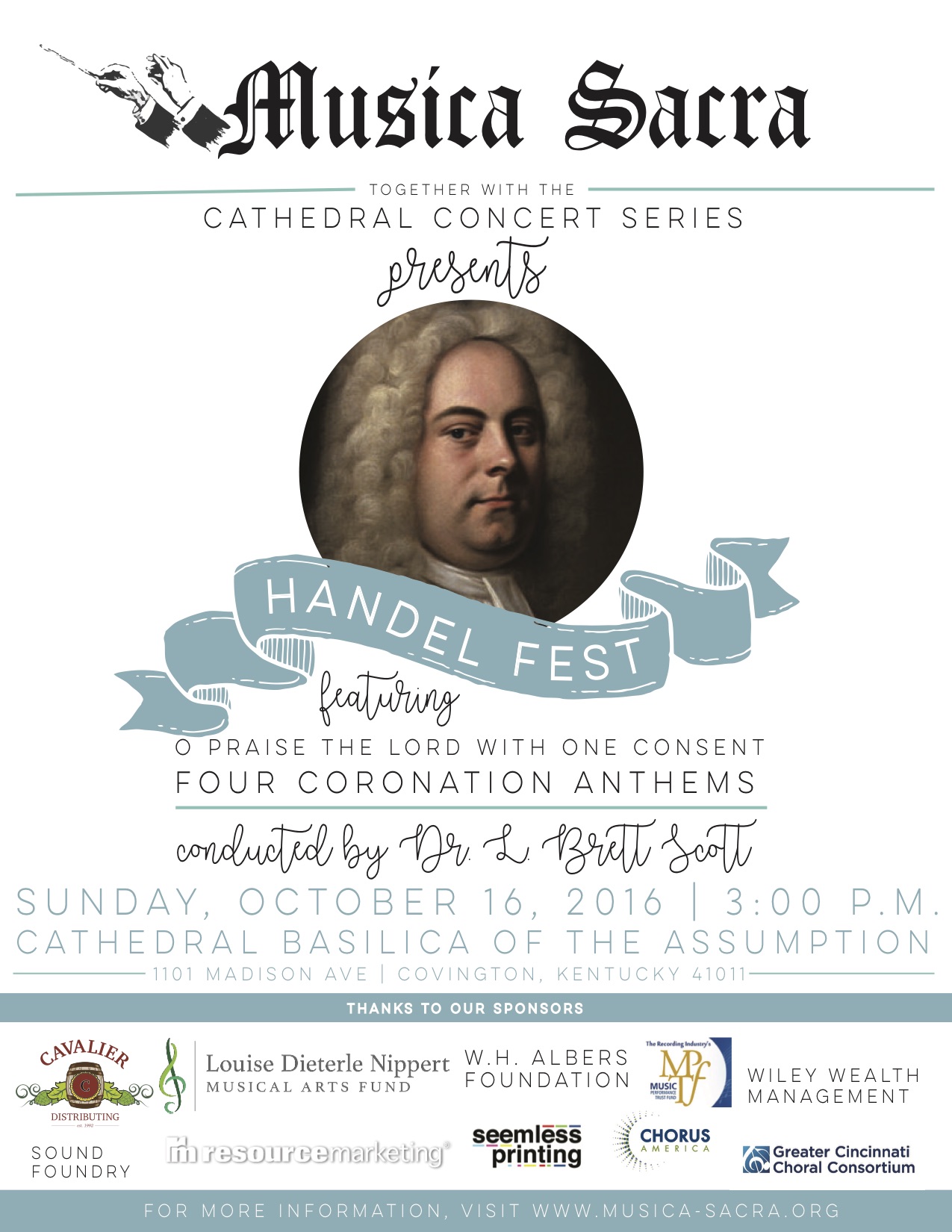 To download the flyer as a PDF, please click here.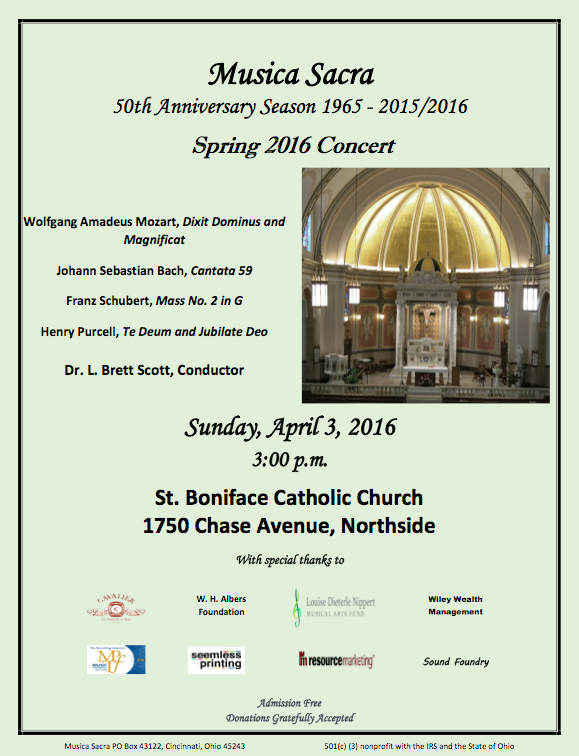 To download the flyer as a PDF, please click here.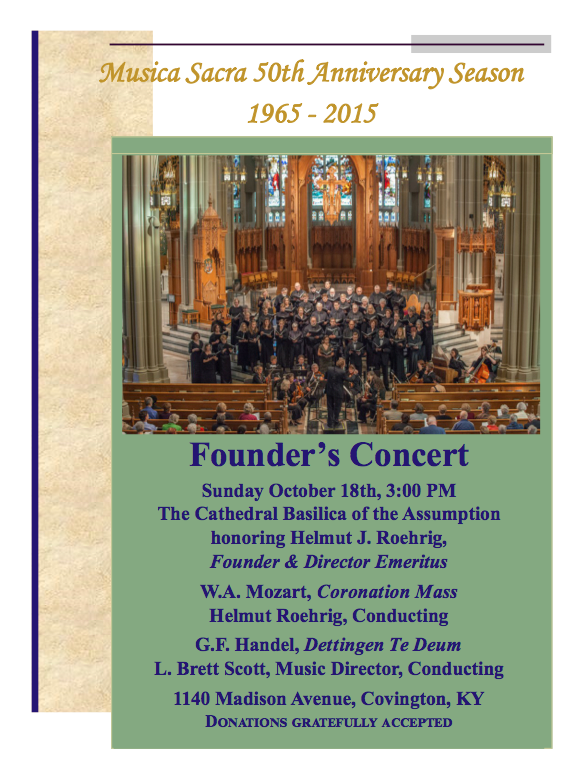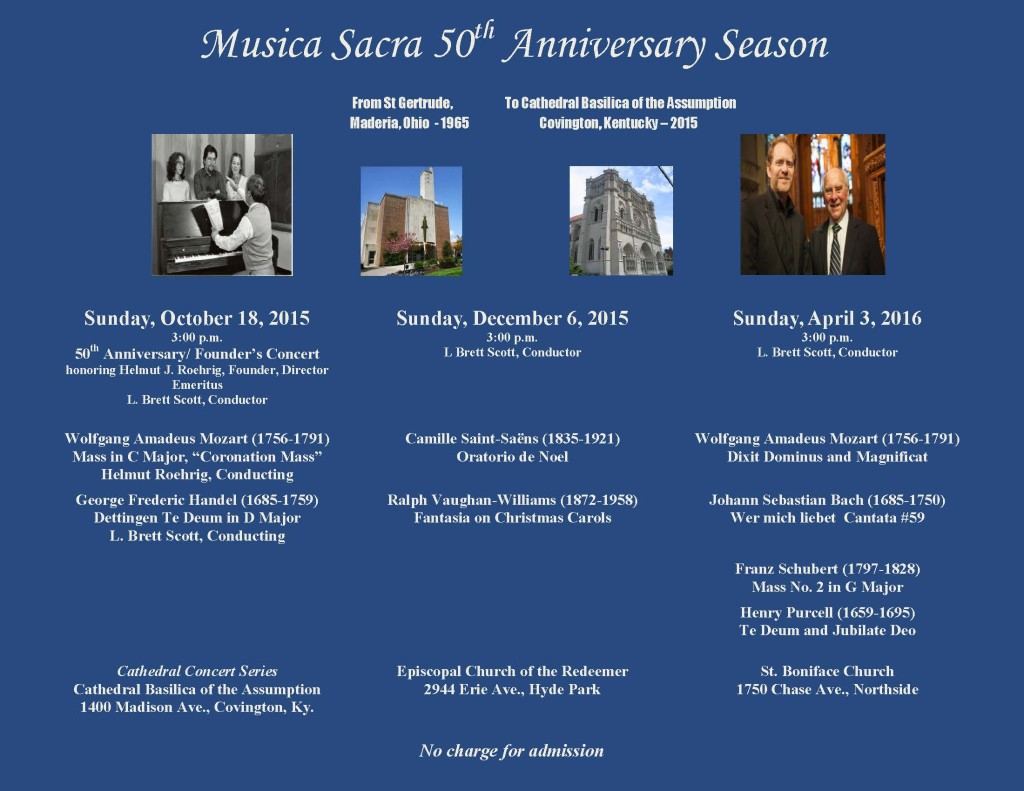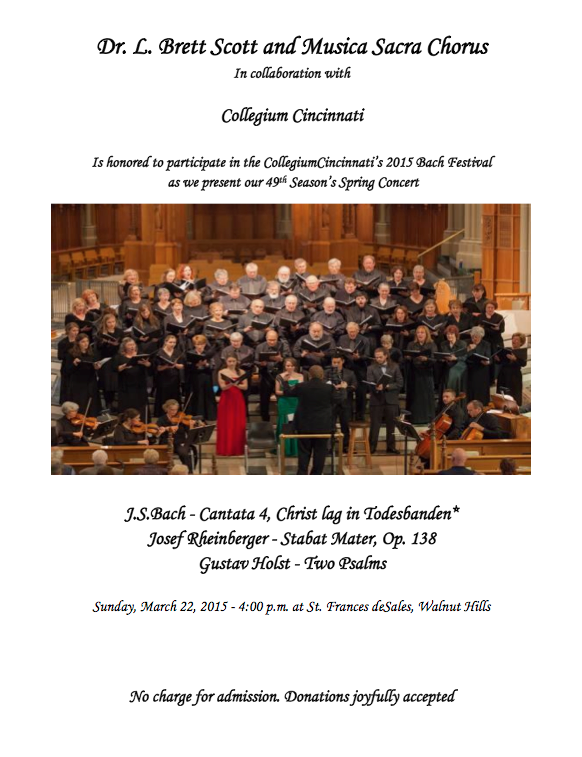 Thanks to
Christopher Swainhart
for the photos from this concert at Cathedral Bascilica, Covington Kentucky. The originals can be viewed at 
http://photos.swainhart.org
, and prints can be ordered from the site.