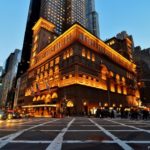 Musica Sacra – 2020 Carnegie Hall Trip Information
Trip Dates: Fri. March 20, 2020 – Tues. March 24, 2020
Performance: Monday, March 23, 2020 at 8:00pm
REHEARSAL INFORMATION
PRACTICE TRACKS
Practice Tracks have been provided by MCP.
Tracks include: Balanced Voices, Part Predominant, and Piano Only
Tracks can be downloaded to any device.
CLICK HERE (pw: mcptracks2020)
LOCATION
Westin New York, Times Square – Ballroom
270 W. 43rd Street (Corner of 43rd St & 8th Ave)
The Westin is approx. 0.6 miles from the Courtyard hotel (walk time = approx. 13 min.)
SCHEDULE
AC Note: This will be finalized by MCP 60 days out from the concert (Jan 23, 2020)
Sat. March 21 — 8:45 AM – 1:00 PM (Arrive no later than 8:30 AM)
Sun. March 22 — 1:15 PM – 5:30 PM (Arrive no later than 1:00 PM)
Mon. March 23 — 1:00 PM – 3:30 PM (Arrive no later than 12:45 PM)
CALL TIME and FINAL SOUND CHECK @ Carnegie Hall
Mon. March 23 — TBA Btw 4:30 PM – 7:30 PM (Arrive no later than __:__ PM)
LOCATION: Carnegie Hall Stage Door — 161 West 56th Street (East of 7th Ave.)
Carnegie Hall is approx 0.3 miles from the Courtyard hotel (walk time = approx 5 min.)
NOTES:
Singers should plan to arrive 15 minutes early to each rehearsal in order to find assigned seat.
If using surface transportation (taxi, Uber, Lyft, bus, etc.), please allow ample time for traffic.
Singers should bring their own original music and a pencil in a black binder or choral folder.
Singers should bring a water bottle and a snack to each rehearsal.
There will be places to refill water and use the restroom during rehearsal breaks.
CONCERT ATTIRE
MEN
Black suit with black shirt and black tie; OR black pants with black shirt and black tie, and black belt (not brown)
WOMEN
Black blouse with black pants/long skirt; OR black dress (min. ¾ sleeve, knee length or longer)
HOSIERY & SHOES
All singers should wear black hosiery/socks.
Singers should wear comfortable black shoes. Singers will be standing while on stage, and may encounter stairs backstage. [If you require accommodations, please contact Anneliese.]
LODGING INFORMATION
Several choristers will be staying in Musica Sacra's block of rooms at:
Courtyard by Marriott – Central Park (1717 Broadway, New York, NY 10019)
Upon arrival in NYC, those who are staying at the Courtyard will receive a packet from John Wegener with your room keys, and other important hotel information. [John is going to check everyone in at once, since he is the point of contact listed on our contract with Courtyard.]
TRAVEL TO/FROM NYC
FLIGHT INFORMATION
TBD – Working on group flight options.
TO/FROM AIRPORT & HOTEL
TBD – Working on shuttle or tour bus options.
ENTERTAINMENT / TOUR IDEAS
The below items are suggestions from the planning team since many of our singers have never been to New York. Feel free to organize a group outing with other choristers, or explore the city on your own!
Restaurant.com or TripAdvisor.com

Broadway "Show & Dinner" packages
Restaurants near popular attractions, along with reviews
Suggested walking itineraries
Food tours (ethnic, food trucks, etc.)

"Hot Tckts Booth" for lower-price, same-day tickets
Shopping: 5th Avenue or SoHo
(Celebrity sighting potential!)
Central Park
Lincoln Center
Times Square, Rockefeller Plaza, Radio City Music Hall
NBC Studios; Today Show; Live Taping [Note: these are *early*
Museums (Met, MOMA, Whitney, Fricke, Natural History)
The Statue of Liberty
Ground Zero Memorial
Empire State Building
Harbor Dinner Cruise
Walk the Brooklyn Bridge (free!)
Big Onion Tours
East Village — Jazz Music (several notable jazz venues are in this area)
Battery Park, Financial District